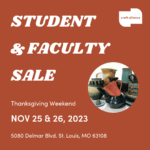 Enjoy Thanksgiving weekend discovering unique art crafted by our talented students and faculty. Embrace the season with local ceramics, jewelry, and more, supporting local artisans!
Bonus! When you buy something from our Student & Faculty Sale during its special weekend, you'll get a 20% discount on any item in the Shop!
Proceeds from this annual sale support Craft Alliance's educational programs.